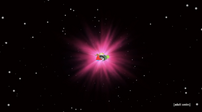 Q109 Is a simulation world, created by a "rogue, foreign scientist" named Shark. This simulation world is the main setting of 12 Oz. Mouse. Shark created alter dimensionation and the world was created in case of bit war. It enabled man to move into the future and "withstand devastation." Eventually, alter dimensionation was destroyed, and the people left inside the world were stuck there. Everyone in Fitz's division was trapped in the world, including him. It was privately funded, by Shark and the Rectangular Businessman. 
Mouse Fitzgerald, a mouse who was eventually stuck in the simulation, worked for a group that was investigating the situation. His wife told him to quit, but it was apparently too late. He also find out from Buzby, that his wife was a memory plant.  
Present Events
[
]
In the 12 oz. Mouse special titled "INVICTUS", we learn all this from Fitz, as he recalls his experiences. In the special, he has escaped the simulation and is living a good life in the real world. Buzby informs him that the alter dimension is imploding and his friends need Fitz' help to escape. At the end of the special, the whole gang is teleported to the real world, except Skillet and the Clock who stay behind. 
Locations Inside Q109
[
]
Airport 
Cheese Industries
Black Beast Movie Theater
Environment Locations/Landscapes:
[
]
Trivia
[
]
The Q109 simulation is very similar to the simulated reality from the popular Matrix film franchise.
Mouse's Fitzgerald's Q109 ID card was revealed in "Rooster", implying people in the simulated realty get ID cards in this simulation.
Q109 has it's own space and planet where all the characters live on.
A map of the Q109 simulation is revealed in the episode "Meat Warrior".
Sirus designed this simulated world to be "escape proof."
Gallery
[
]