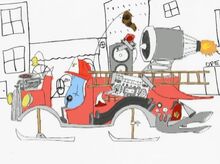 A Firetruck owned by Peanut Cop or Peanut Fireman, it was seen at the end of the episode, "Auraphull" in a Post Credit Scene, the firetruck doesn't have wheels instead it has skis, a bell, a radio, an axe, and a couple of objects on it and the Peanut Cop changes his profession to a firefighter after stealing a firefighter helmet, blowing up the hat store, by using this Firetruck.
In "Meat Warrior" he picks up Liquor with his firetruck and he and even Liquor continue to drunkenly drive through the city, at one point they come to a Human Citizen dressed as Construction Worker is working on a utility pole, Peanut Cop shoots the line that burns and electricity on the citizen killing him turning him into a skeleton, They drive thought the city hitting trash Cans and a yellow Cat there also a bunch of mothers carrying their babies in a baby carriage that say "My Baby" as Peanut Cop and Liquor in the firetruck hit one of the baby carriages and one of them flies into the air killing one of the babies a mother is shocked than finds a bottle of Alcohol covered in blood which the mother drinks and burps and breaks the glass, however, this doesn't end well because the mother and the bloody baby carriage are hit by the said Firetruck, later Peanut Cop stops his firetruck at Liquor's shop, as he continues to enter the store. Liquor decides to drive the vehicle to the 750 Floor Building so he can meet up with Fitz. The Firetruck disappears for the rest of the series saved for a small scene later at the end of the episode where Peanut Cop is driving it and Peanut Cop still remains being a firefighter until the Season 2 Finale.
While the firetruck doesn't appear in the next episode "Meaty Dreamy" but the Firetruck is mentioned by three Citizens with one of them on fire sing a song about "Where Does The Firetruck GO?" two times and then sings "And When Does The Hand Knows?, Know, Knows?" and then repeats "And When Does The Hand Knows?", However, the three Citizens then get hit by Shark's Car.
Community content is available under
CC-BY-SA
unless otherwise noted.