Jurassic World: Dominion Dominates Fandom Wikis - The Loop
Play Sound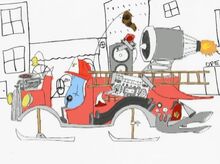 Peanut Cop's Firetruck is a firetruck owned by Peanut, when he took profession of a firefighter.
The firetruck doesn't have any wheels, but instead it has its own skis, a bell, a radio, an axe, and a couple of objects on it such as a raccoon tail, and a rocket engine are on the firetruck.
Description
[
]
The firetruck first appears at the end of the episode "Auraphull", Peanut Cop drives it, as a firefighter, after previously stealing a firefighter helmet, and blowing up a hat store, then drives his firetruck.
In the episode "Meat Warrior", Peanut picks up Liquor, and drunk drives around town with the vehicle, which hits objects, and things, on the streets such as trash cans, a yellow cat, and a baby carriage. The firetruck also hits the Hand, and Peanut accidently kills a construction worker fixing a utility pole, which was zapped to death by electrical wires after Peanut fires a shot at those wires. After drunk-drinking in the firetruck for a while, Peanut decides to head to Liquor's Store, and then Liquor takes position of the firetruck, and drives away, until reaching a large skyscraper to reach Fitz and co. After that, the firetruck was parked in front of the skyscraper, and never seen again after that, aside from Peanut driving the firetruck at the end of the episode.
The firetruck, while not seen in the episode, was then sung by three Human Citizens in "Meaty Dreamy", singing "Where does the firetruck go?".
Appearances
[
]
Gallery
[
]