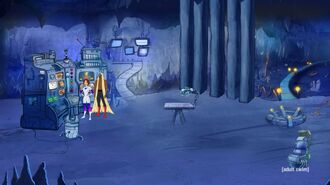 Mysterious Laboratory is a laboratory located inside a large underground cave full of crystals and other ground in the simulation world of Lotharganin and is a another setting shown in the third season. The ground of the laboratory is colored blue, laboratory themed parts such as a blue table, monitor set, robots and a slide. Research is shown in the underground laboratory with the help of Aria and Professor Wilx. Fitz mysterious appears in this laboratory. The Eye eventually traveled to this laboratory from a boat, after floating in the waters of Lotharganin's ocean. The laboratory also has a large door where the Eye entered out of. A stage play in the laboratory can seen in "You Made This", where the Eye makes shadow puppets. In "Because They Could", when Aria, Fitz and the Eye enter a room full of weapons such as various guns to take out the Bow-tie Bots with. Eye is also shown showering in this laboratory in the same episode.
Professor Wilx has a monitor system with nine different monitors, Clock and Spider appear on them. This laboratory is shown to has its own defense system, such as a alert system which the laboratory flashes red from a button saying the words "Field off" that flashes in red, but turns green, which doesn't flash, and they have a relic car machine (also a updated Zed 38 prototype) that hasn't been tested yet, which was called T.O.P.A.Z., but it eventually broke down.
In the episodes "Reveal", "Prime Time Nursery Rhyme" and "Here We Come", Professor Wilx traps Fitz, Eye and Aria in a red laser cage and escapes. Golden Joe and Peanut then end up in this laboratory, the latter was also killed by a missile on the ground after freeing Fitz, Aria and Eye from the said cage by pressing a switch.
Gallery
[
]