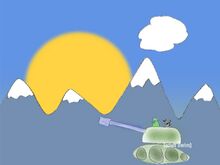 The Mountains is a location seen only in the episodes "Signals", "Corndog Chronicles" and You Made This". The mountains are colored gray, and have a white top of it. Fitz and Skillet drive the tank to a mountain range so they can look at the sun setting, which Mouse sings a song about, before the Eye meets with them on a parachute. Later on, Fitz continues to sing as the sun sets in the background. The mountain range makes a brief appearance in "Corndog Chronicles", as it appears one of Fitz's dreams as it transitions to the mountains where Fitz, Shark, and Clock are in the Office.
This is the first location in the series that have a colored background.
Community content is available under
CC-BY-SA
unless otherwise noted.