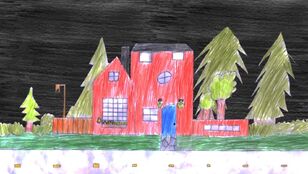 Man-Woman's House is a minor location in the third season of 12 Oz. Mouse. The house itself is a home in the simulated world, which is owned by the Man-Woman, which has appeared in the episodes "You Made This", "Because They Could", "Portal to the Doorway" and "Final Beginning". It is only seen at night. Aside from the Man-Woman, other people that are seen in this house are a Human Cop, Professor Wilx and Francis, they are seen visiting this house to claim the Box of Worlds she owns.
The house is located next to a street, and a next to grass, bushes and trees. The house's exterior is colored red, has windows, a blue door, a brown fence, two lamps, a light-post, a stone sideway, and it has flowers.
The interior is colored plain white, its dining room is only seen. The dining room is shown to have two chairs, a table, a flower pot (which has a flower that blooms), a lamp, pictures of the Man-Woman with ice-cream, with salad, her with her fist up, her face, her red ball and a large image of her with a brown horse that she owns.
In appearance, this house heavily resembles Mouse's Real Home, with a similar cartoony art style used.
Community content is available under
CC-BY-SA
unless otherwise noted.