Welcome to 12 Oz. Mouse Wiki!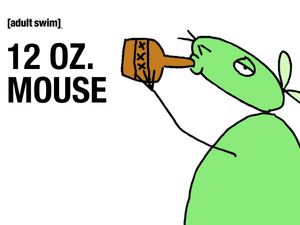 12 Oz. Mouse is an animated television series created by Matt Maiellaro, of Aqua Teen Hunger Force and Space Ghost Coast to Coast. The program aired on [adult swim], originally from 2005 to 2006, but returned in July of 2020 with a third season. The series follows the adventures of an inebriated mouse and his friend, Skillet the screeching chinchilla, as they uncover mysteries and secrets about their world, and further investigate to escape it somehow, with the help of other townsfolk.
Although the series ended its original run on December 17th or 2006, a webisode titled "Enter the Sandmouse" was released on "[adult swim] video" on May 16, 2007. Then, after 11 years of being off the air, the series aired a special on October 14th, 2018 known as "Invictus." After the special's release, the program was rumored to be returning. Though, these speculations were left unproven, until the summer of 2020, where it was announced that 12 Oz. Mouse would return for a 10-episode, third season on July 20th, 2020.
The Mouse is back for Season 3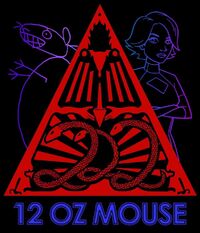 After being officially announced on July 6th, 2020, the Season 3 is set to premiere on the midnight of July 20th on [adult swim]. The new season is claimed to have 10 episodes by Brad Lee Zimmerman.
The following is Zimmerman's full statement:
"13 years ago I worked on a show for Adult Swim called 12 Ounce Mouse. In a nutshell, the editors were animators. It's kinda like tying one or two arms behind the process and offering a distinct look and feel. I spent the first six months of 2018 helping to bring this project back to life. Now we've been greenlit for 10 new episodes airing in 2020 for which I will spend the next year and a half at Williams Street in production. I couldn't be happier to be a part of it. The 22 minute pilot episode airs tonight after a !new! episode of Harvey Birdman (cancelled in 2007). It's like kinda 2005 all over again but older and crustier. Behold, my first animation/composite of the new ep. entitled "INVICTUS"...."
The show also featured at SDCC@Home where new revelations came about the show and season 3 itself, including new clips! Watch the panel and join the discussion!
Featured Video