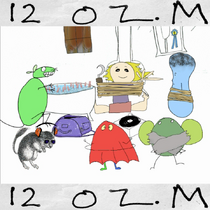 The 12 Oz. Mouse Soundtrack was released in 2008 on the 12 Oz. Mouse DVD. It features 19 songs from the show, with the exception of the last track titled "Your Scaring Me" by Vishal Roney. Overall, the whole soundtrack is 36 minutes.
12 Oz. Mouse Close - 9 Pound Hammer
Night Shark Theme - Schooly D
(Skillet's) Drum Solo - Pulito
F-Off Live - Pulito
Death Of Rhoda - The Sadies
Times Up (Gun Assembly Song) - The Sadies
Pronto Hunts In The Night - Show
Your Scaring Me - Vishal Roney
Community content is available under
CC-BY-SA
unless otherwise noted.