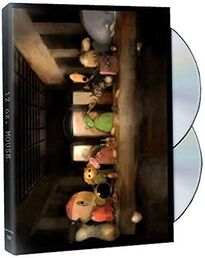 12 Oz. Mouse: The Official DVD

[

]
The 12 Oz. Mouse Movie DVD was released in 2008 and was featured on the Adult Swim shop. The first disc contains every episode, with the exception of Auraphull, compacted together to create a movie, with the second disc including extras such as production footage, fan art and more. The cover of the DVD shows the whole crew sitting together at a large table, spoofing the painting created by Leonardo da Vinci titled "The Last Supper." When the Adult Swim shop closed its "digital doors" in 2012, the DVD was no longer being sold. Since then, copies of the DVD have been floating around the web, usually having a hefty price tag, due to both discs being extremely rare.
Disc 1:

[

]
Disc 2:

[

]
Trivia:
[
]
Since The DVD is so hard to find, many people have created their own versions of it. These DVD's include every episode, not edited into movie form, along with promos serving as extras.
The DVD cover of the series depicts Leonardo's The Last Supper with the series characters (Fitz drinking Alcohol, Woman Mouse, Roostre, Skillet, Liquor, Peanut Cop, Golden Joe, Eye, New Guy, Producer Man, Spider, Rectangular Businessman, and Shark, along with Clock on the wall and The Shadowy Figure in the background with some Objects on the table like

Fitz's Gun

, Corndogs and a drink as a Bomb and one of Pronto's arrows on the floor) replacing Christ and the twelve apostles. However, under a black light, the cover depicts the skeletons of the characters, as well as letters and symbols which make out an email address.
The Post-Credit Scenes of many episodes like "Bowtime", Peanut Cop riding his Firetruck at the end of "Auraphull" & "Meaty Dreamy", are all absent on the movie & DVD, oddly enough the Post-Credit Scene from the episode "Eighteen" is still present in the movie however it takes place somewhere in the middle of the episode instead of the final parts of the episodes.
Only a small part of "Auraphull" is played, The Hat Store appears differently on the DVD than the one on television, for example the Eye's Tap Dance is missing & the scene is edited to make it nighttime.